Theatrical Workshops- POSTPONED
May 9 @ 8:00 am

-

May 31 @ 5:00 pm
Event Navigation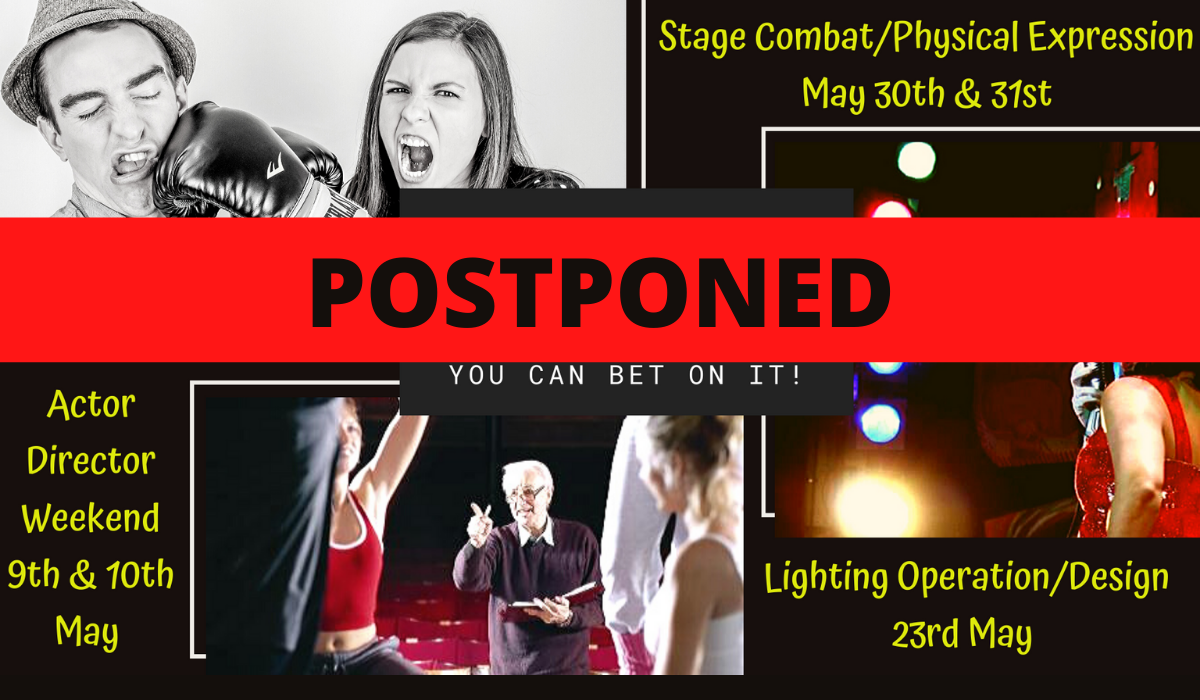 ABOUT Theatrical Workshops- POSTPONED
A Theatrical Trifecta!
You can bet on it.
Three Weekend Workshops hosted by The South Canterbury Drama League @ The Playhouse, Church Street, Timaru
The South Canterbury Drama League is delighted to announce three stunning weekend workshops of theatre skills led by practitioners at the top of their game.
Workshop 1
Actor/Director – Weekend
When: Saturday May 9th, Sunday May 10th
Time: 10-1pm and 2-5pm both days
Cost: $100
Here is an integrated workshop dealing with the collaborative relationship between actor and director.
Bryan Aitken – Well-known director, actor and tutor and former Associate
Artistic Director and original company member of The Court Theatre. This
workshop is for both aspiring and developing theatre practitioners in
musical or straight theatre. Bryan is president of Theatre New Zealand and is actively involved in fostering theatre throughout the country. He has directed and taught for most of New Zealand's major theatre companies.
Content will include:
Inner Action/Outer Action
Needs & Objectives,
Sustaining Pause,
Play Against
Defining Genre & Style
Refining your 'Theatre Vocabulary',
Creative Collaboration, plus much more.
Directors will receive the opportunity to focus their skills with the actors, under the mentorship of Bryan, on day two.
---
Workshop 2
Lighting Operation/Design – 1 Day 
When: Saturday May 23rd
Time: 9.30am-12.30pm and 1.30pm-5.30pm
Cost $60
Grant Robertson  – The past resident lighting designer for The Court Theatre, Grant is the owner and co-founder of the lighting hire and production company, The Light Site in Christchurch. He has been the designer for many NZ outdoor events and musical theatre and opera productions such as Les Misérables, 42nd Street, Fiddler on the roof and Beauty and the beast.
Content will include:
Types of fixtures (how they work and what they do),
Overview of lighting system structure: Cabling, DMX.
Basic safety: electrical, rigging.
Basic rigging of lighting.
Lighting desks-types and operation.
Introduction to lighting design process.
---
Workshop 3
Stage Combat/Physical Expression – Weekend
When: Saturday May 30th & Sunday May 31st
Time: 10-1pm and 2-5pm both days
Cost: $100
Danny Lee Syme – A seasoned performing artist, director, teacher, manager and choreographer with extensive experience in circus, martial arts, acting, physical theatre and dance. At the cutting edge of circus arts in New Zealand, he is the creator of Cirko Kali, a newly formed contemporary circus and physical theatre company based in Lyttelton. He specialises in stage combat, clown, slapstick, floor acrobatics/tumbling, dance, adagio, and aerial arts.
Content will include:
Martial Arts warm ups.
Combat postures.
Stage Combat fundamentals.
Hand to hand combat.
Combat choreography.
Using props as weapons.
Slapstick.
Performance attack and defence.
Foam baton/sword and stick fight fundamentals.
Dual and group routines.
Physical theatre and character integration….and much more!
---
Rarely has there been a package of this stature put together by SCDL.
Make sure you are a part of it!
Enrolments:
Venue:  The Playhouse, Church Street, Timaru
Bring:  Lunch, sensible clothing, notebooks, pencils, pens, highlighters, sense of humour.
Morning & afternoon tea provided.
Related Events