GIANTS IN THE SKY – STREAM AVAILABLE FROM THE 4TH OCTOBER
September 30 @ 7:00 pm

-

October 3 @ 9:30 pm
Event Navigation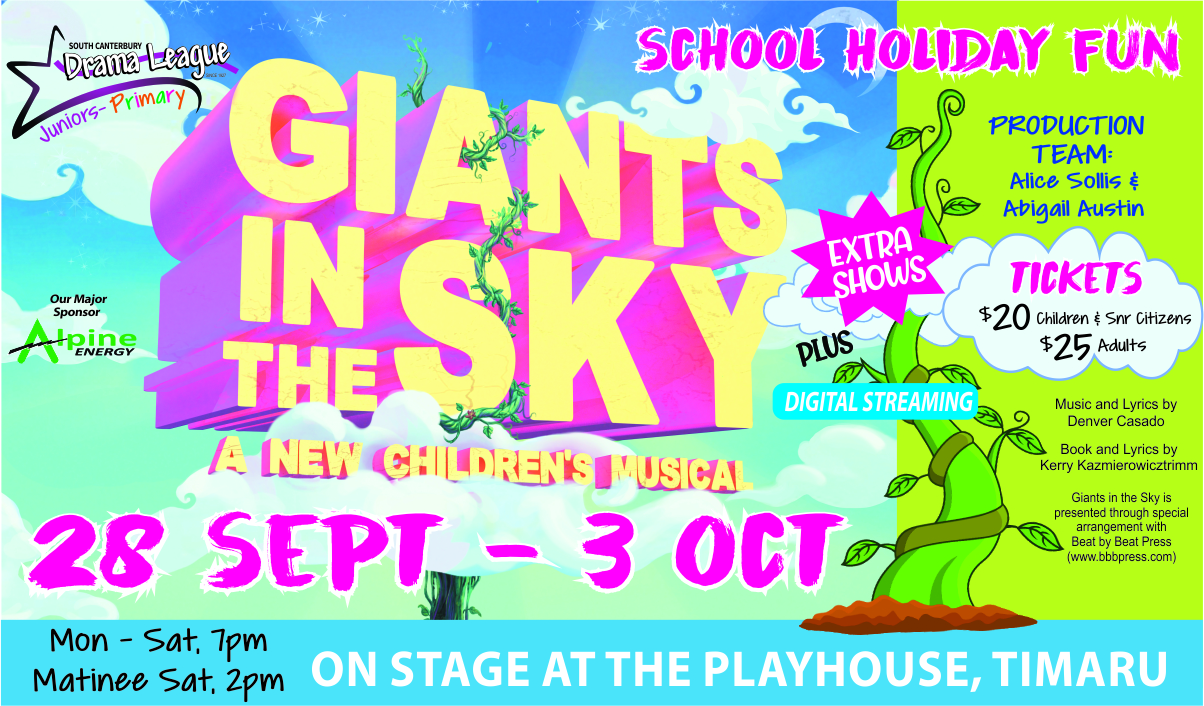 ABOUT GIANTS IN THE SKY – STREAM AVAILABLE FROM THE 4TH OCTOBER
Did you miss out on a ticket?  Keep an eye on our facebook page for any tickets that become available through the run of the show AND  also – a first for the Drama League….
Streaming will be available from 4th October.
Either go straight to iTicket and follow the link or follow our link HERE from the 4th October to purchase a stream ticket.
Individual stream is $20 and groups like schools and rest homes is $40
✩WINNER! 2017 Children's Musical Theatre Festival, NYC✩
This magical story explores the world of Giants who live above the clouds. Ever since they left Earth a long time ago, the Giants have made a life up above, where their job is to keep the sky beautiful. They polish the stars, poke the clouds to let it rain and paint the sunsets. But there is one curious Giant who wonders what life is like on Earth, so she steals a key to the locked up "beanstalk" and embarks on an adventure down below!
While Giants in the sky is set in an imaginary world, the central relationships of the show are real. Something that children can connect with. This refreshing story focuses on the friendship between Heeshee and Bert, and how great friends are something you shouldn't take for granted. The song "While You Can" is a wonderful reminder for everyone to show appreciation to the special people in our lives.
The show is suitable for families and children of all ages up to intermediate, including pre-schoolers.
Giants in the Sky
A New Children's Musical
Music and Lyrics by
Denver Casado
Book and Lyrics by
Kerry Kazmierowicztrimm
Giants in the Sky is presented through special
arrangement with Beat by Beat Press (www.bbbpress.com)
Presented by SCDL Juniors – Primary, South Canterbury Drama League Junior Section by arrangement with Beat by Beat Press
Related Events