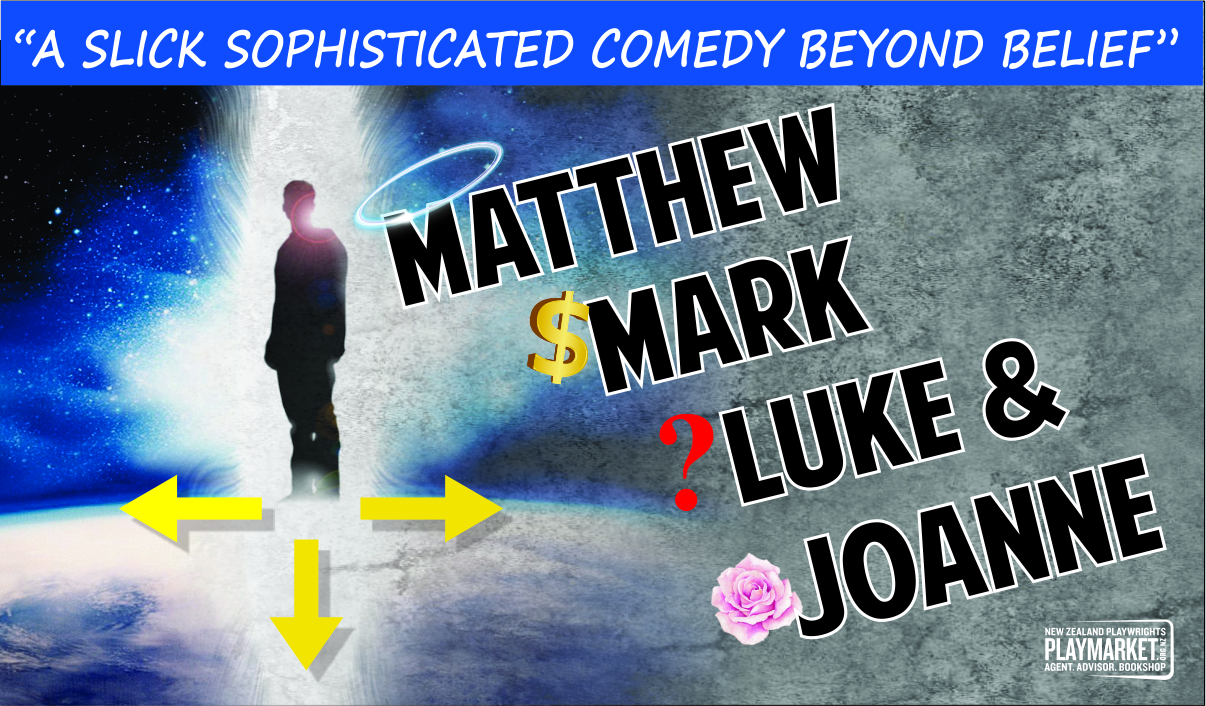 Matthew, Mark, Luke & Joanne –  11-15th September, The Playhouse, Church Street
Directed by Kevin Foley
There is something quite special about getting to sit in on a rehearsal during hell week. The elements coming together and merging into the vision of the director and the team they lead. As a reviewer I prepare to observe the work the actors, crew and production team bring forth, their well-prepared offering.
The pink wash over the white set on the black stage creates a peaceful ambiance, lulling us into a mind of contemplation as we wait for things to begin.
Kevin Foley's direction allows us to focus on hearing the story as it unfolds and the cleverness that is found in the words of writer Carl Nixon. This story gives an opportunity to look at life and the issues around the values we choose to live by, what influences these, and what happens when our choices and values cause a rub against our friends and families.
The choice of an unchanging set (David Draffin) and minimal and well-chosen props (Pat Allen, Jess Liddy and Mary Clarke) ensured the focus remained on the characters and their stories. This works well with the subtle and beautiful lighting (Robert Horsburgh), and the clever sound effects (John Barton and Mark Sollis) working in tandem to add to the world of the play.
From the moment we meet Matthew, (Jon Harris), with his blue suit, red supermarket basket, as he faces us and reaches for coffee in the gluten free, organic and ethnic food aisle with his opening monologue we are engaged, and eager to hear more about his earnest life changing meeting with Jesus – epiphanies can happen anywhere. We want to hear what happens next. Jon Harris brings a naive and genuine feel to the character of Matthew which stood out in a moment as he stands with blankets and talks of helping people.
His best friend Mark, (David Mortimer), self-serving, materialist is 'creeped out' by the change in his friend. David Mortimer plays this part with zeal and an appetite that cannot be satisfied as Mark searches to fill a void. Matthew's wife Joanne, (Lizzie Dawson), is angry and feels abandoned by Matthew's conversion to Christianity. Lizzie Dawson, plays Joanne's confusion searching for the answers to a happy life with dexterity and flair as Joanne searches for the answers in yoga, relationships and dealing with her past.
Both struggle with Matthew's new life choice, and how it impacts them and their worlds. He no longer fits in their boxes, as they are unable to see that they too hold strong beliefs and put their faith in other things like expensive cars, money, yoga and even echinacea pills. With some 'zig zagging' and a twist at the end, this play leaves us having recognised situations, recalling people we know and sayings.
In conclusion this is a thoughtful and interesting story told with many laugh out loud moments and earnest performances by three talented performers.
Make sure you are a witness to this clever story and book your tickets from I-ticket, Newman's MusicWorks, Timaru Information Centre and Parker's Stationery Waimate.
Reviewed by Kimble Henderson MTA (Merit)