Hamlet Dies at the End Auditions – 3rd & 4th August 1-3pm
August 3, 2019 @ 1:00 pm

-

3:00 pm
Event Navigation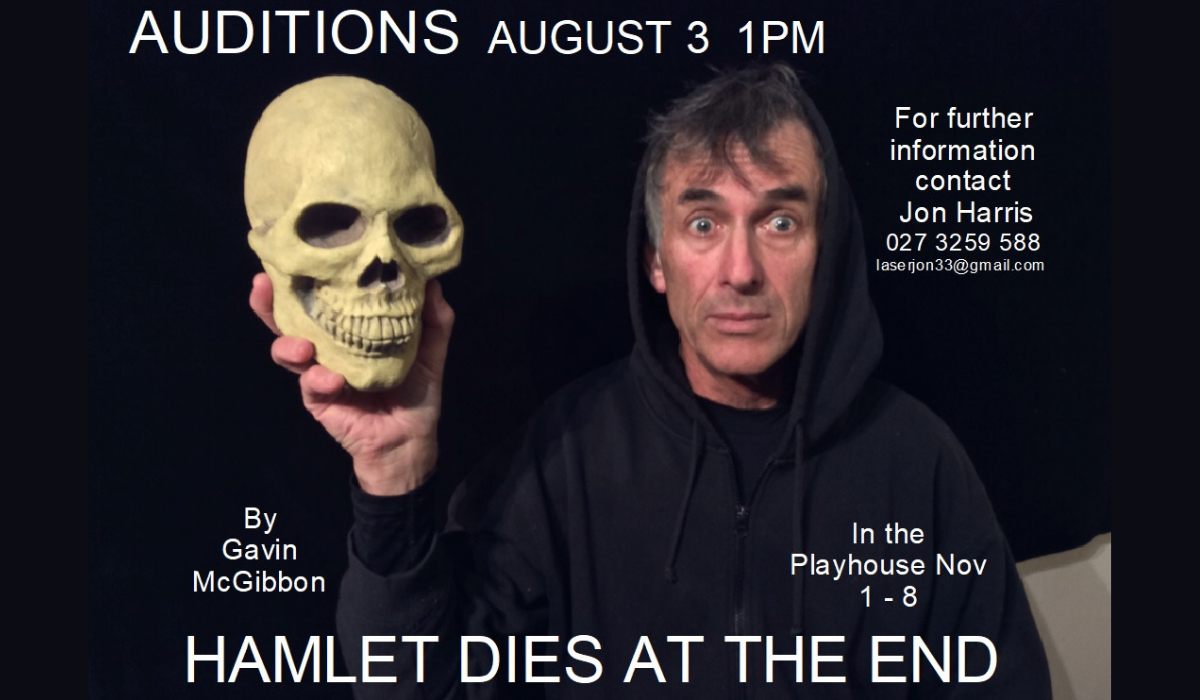 ABOUT Hamlet Dies at the End Auditions – 3rd & 4th August 1-3pm
Hamlet Dies at the End by Gavin McGibbon 1st to 7th November 2019 show dates. Saturday 3rd and Sunday 4th August, 1-3pm at The Playhouse.
Well of course Hamlet dies at the end, but not in this play about a ragtag bunch of misfits trying to come to terms with life, each other… oh and Shakespeare's great tragedy, Hamlet.
Hamlet Dies at the End would be a tragedy if it weren't so comical. It deals with death but nobody dies (quite) and it ends by affirming life in all its puzzling inconsistency and prolific glory. From 91-year-old Charlie, whose wife has just left him, to young Jimmy, who set fire to his cat, the characters bring Hamlet to life in ways you never thought possible.
An ultimately heart-warming comedy from award-winning New Zealand playwright Gavin McGibbon, ('Holding On' and 'Under The Hood').
Synopsis:
Five people with little in common are thrown together in a workshop to learn Shakespeare's Hamlet from an intense drama tutor, with the aim of performing excerpts before an invited audience. "This is art, not therapy", says the tutor, but the members of the group have a different idea. As they interact we learn their various motivations and finally even Shakespeare's great work becomes a vehicle for some kind of understanding and resolution.
Characters
Becker
Age: forties-fifties; the unemployed drama teacher, 'plagued by self-loathing' but tries his best (when put on the spot) to share his love of theatre with others.
Douglas
Age: forties-fifties; a hard-rocking drummer in a covers band; outwardly easy-going but going through a difficult patch.
Patricia
Age: forties-fifties; single; librarian; thinks she's God's gift to the stage; dedicated follower of Becker.
Rhonda
Age: forties; mother, wife and bus-driver, not necessarily in that order; no-nonsense, not someone you want to mess with.
Charlie
Age: 'ninety-one' (or thereabouts); veteran of WWII; still full of life; struggling to come to terms with being deserted by his wife at 91.
Jimmy
Age: nineteen; very withdrawn and quiet but has hidden talents that slowly become revealed.
Related Events